Posted by
Topher
on
Sunday Jan 9, 2011
Under
Updates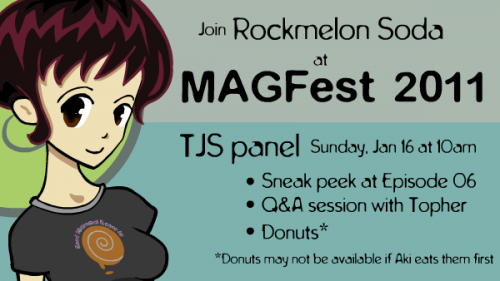 Here's a thing. The Journalism Show is getting its very own panel at the 2011 Music and Gaming Festival, AKA MAGFest, AKA Better Than PAX. You can come to it if you want.
There'll be an exclusive screening of the first 2 minutes (give or take) of TJS Episode 06, followed by a Q&A session where I will A your Qs about TJS and Rockmelon Soda.
If you're attending MAGfest this year, please come join us. The panel starts at 10am on Sunday, which is a horrible time slot, but you should come anyway. It'll be fun.
3 Responses to "Rockmelon at MAGFest 9!"
Seanileus Says:
January 16th, 2011 at 6:34 am

I love donuts, wish I could've gone.

casualweaponry Says:
January 20th, 2011 at 8:19 am

It was a lot of fun! But please, no more early morning timeslots. I think we were all hurtin' in there. It was definitely worth it though.

Topher Says:
January 20th, 2011 at 9:42 am

The time was so horrible. I don't remember much of the panel because I was half asleep through most of it. -__-;

Next year!