Posted by
Topher
on
Wednesday Sep 8, 2010
Under
Blog
,
Updates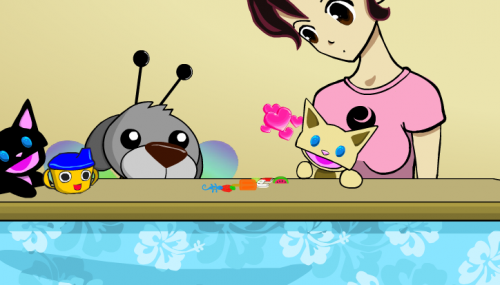 Pinky swear, he says. Terrible.
Just thought I should update to let everyone know that episode 05 is indeed on the way soon. What's taking so long? Well, there are a few reasons it's not up yet.
Firstly, the whole "redoing the entire episode from scratch" thing, as outlined in the last update. Secondly, I've been working a new day job for the past few months which has been devouring a considerable amount of my time, so I don't get to dedicate 80+ hours a week to TJS like I did for the first 4 episodes. Add to that the fact that this one is packed full of human characters that take much longer to draw and animate, and there you have it. The June episode becomes the September episode. Lateness. It's dreadful and I'm sorry.
But the good news is that this second version of ep 05 is turning out better than the original, so it's my hope that it will have been worth the wait. I've been grinding away at it every chance I get, and will have it finished for you as soon as humanly possible.
As for the front page here, it gets neglected due to a combination of my hatred for WordPress and ongoing consideration of redoing the site entirely, and the fact that – no, really – all the action around here takes place in the forums. The community here never ceases to amaze me with how awesome they are, and if you enjoy the show I invite you to come join us.
In the meantime, work continues and nears its completion on episode 05, and I hope everyone will enjoy it!
10 Responses to "Working, working."